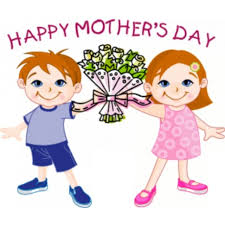 May 2 - May 6


We have had so much fun watching our caterpillars get bigger and bigger and fatter and fatter as we learn about their metamorphosis. They are all in a chrysalis now and will be butterflies very soon!
We are excited for our very special Mother's Day centers on Friday. We will begin RIGHT AT 11:00 so please plan on arriving by then. The students have some special songs prepared and we have a special story we will be reading together as a class. There will be activities, games, and even a snack! You will be painting with your children, so don't wear anything too fancy! Hope you are able to make it! Please remember to arrange childcare for your little ones so that this can be a very special time between you and your kindergartner :)
IT'S TIME! Community Service Projects are due and will be presented

THIS WEEK!

Please send projects in Monday through Thursday (May 2nd - May 5th). We need all of the projects turned in BEFORE FRIDAY!!
Please remember that your community service project is a required part of our curriculum at Inland Leaders. I look forward to seeing all of the projects.
Upcoming Events:
May 2 - Community Service projects are due this week. Projects must be turned in by

THURSDAY May 5th

.
May 6 - Mother's Day Celebration in the classroom 11:00 - 12:30
May 30 - Memorial Day
NO SCHOOL
What Are We Learning This Week?:
Sight Words

:
AUNT, UNCLE, GRANDMA, GRANDPA, COUSIN. You will also find Sight Word Fluency Pages for all three trimesters in your child's book bag this week. Please help your child work on all of the sight words learned this year. End of the year assessments will be taking place in a few weeks!
Letter Team:
You will find a Letter Team Review Fluency page in your child's book bag this week. Please work on this fluency page. End of the year assessments will be taking place in a few weeks!
There are NO new letter teams! For the rest of the year, we will be reviewing all letter teams that we have learned this year. The expectation is that students recognize the letter team within our three second rule, then be able to apply that letter team when decoding an unknown word.
Reading

:
We will continue to read books about caterpillars, butterflies, Mother's Day, and spring.
Writing:
Students will be working on Step up to Writing pieces on caterpillars or butterflies this week.
Math:
We are working on so many fun math games that are helping us with our addition, subtraction, and decomposing.
Leadership:
Our leadership theme for the month of May is
Responsibility.